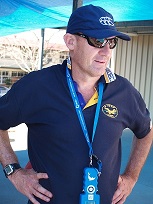 A handicapped 25m freestyle event for those swimmers who have not yet qualified for 50m freestyle.
Rob Chandler was a Dad, just like you, whose children, Georgina, and Max were regular club members.
Rob proclaimed himself the 'self-appointed chief timekeeper' and always took pride in placing the stop watchers on the chairs and explaining the process to new timekeepers. (Instructions were often provided over a beer). Rob, for many reasons, made time keeping fun.
Tragically, Rob passed away suddenly in November 2013 and continues to be deeply missed by his family and friends.
Rob's legacy is a willingness to support community involvement while fostering life-long friendships, fun and plenty of laughs.